Peel Here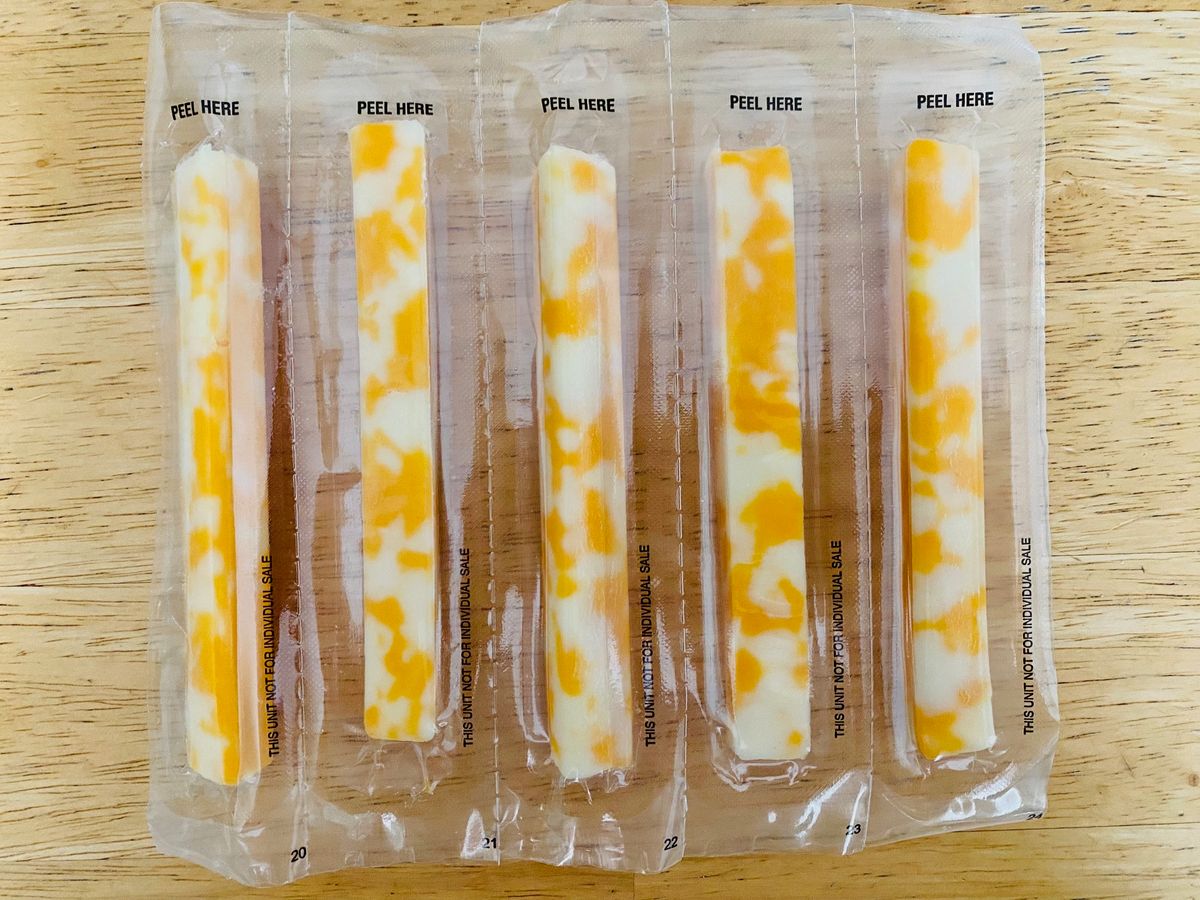 Throughout my life, I've been a sucker for cheese sticks, a phenomenon that must be genetic, as my kids are also obsessed with them. We buy a bulk pack from Sam's Club almost every week, and we all eat a few per day.
While buying in bulk has benefits, the downside is you're limited to buying Sam's Club's house brand. They don't manufacture their own cheese sticks – various contract manufacturers do then put on the Sam's Club logo, which can cause some quality control issues.
Most of the time, cheese stick packaging peels apart easily where it says "peel here." But with house brand cheese sticks, we've sometimes had the issue where they... don't. There aren't two little flaps to pinch and pull apart.
We recently got a package with no flaps to pinch, so I resorted to scissors. When I turned around to give the now-mangled cheese stick to one kid, the other kid had his cheese stick open and was a few bites in. Since they're known to chew apart food packaging like raccoons in a tipped-over trash can, I called it a fluke and moved on.
It wasn't until the next round of cheese sticks that I realized he didn't chew through the packaging – the manufacturer sealed the cheese stick packaging the wrong way. The sticks opened up just fine, but on the opposite side from where it says "peel here."
Not only did I give zero credit to the kid who could open the cheese stick, it didn't even occur to me that "peel here" may have been printed on the wrong side.
Cheese sticks are the hard, mundane way to learn two lessons: 1) we have massive blind spots, and 2) wisdom often comes from unexpected places.
Blind Spots
When trying to open the cheese stick, I didn't even consider the possibility that the packaging was backwards. How often are we completely blind to the idea that something is printed on the wrong side? Or that Hawaiian pizza is, somehow and against all odds, amazing. Or that people we don't understand are acting rationally, given their life experience.
Although I've gotten better at it, people who know me well can tell you that I like to be right. Despite my conviction, I've learned that I often can't see things that would prove me wrong. Amid The Cheese Stick Incident, I would've said Sam's Club needs to change suppliers because they can't even get the packaging right. It turns out I was too blind to flip the packaging around and try the other side.
As Morgan Housel says in his (fantastic) book The Psychology of Money, "Your personal experiences with money make up maybe 0.00000001% of what's happened in the world, but maybe 80% of how you think the world works."
This idea applies to more than just money. We can be blind to anything outside of what we experience, even though it makes up a tiny fraction of what's happened in the world. Whether cheese stick packaging, Hawaiian pizza, or the confusing actions of others, I've learned to do two things: 1) ask myself, "What would have to be true for me to be wrong?" And in the immortal words of Nike, 2) just do it. There's no substitute for trying things, even if they seem crazy.
Wisdom from Unexpected Places
I'm coming up on the one-year mark of staying home with my boys (aka, sadadical), and I couldn't try to count the number of times they have proven me wrong. Sometimes they prove me wrong on mundane things, like where they left a particular toy or how to open a cheese stick, and sometimes they prove me wrong on much bigger things.
Since they're four-year-old boys prone to wrestling matches, we often have to separate them during the bedtime routine. I had Lou for bedtime recently and told him that preschool starts soon and it'll be hard not to be with them all day. He responded, "No, it won't be hard. We're big kids. It's time for us to go to school."
Concise, insightful, and wise.
How often do we discount others because they're not old, smart, or experienced enough to be "right"? How much time do we waste because there's no way our kids know where the toy is, or our spouse knows the difference between SPF ratings? How many good ideas go to waste because we don't believe the intern is smart or experienced enough?
Rather than pass ideas through our biased filters first, it's worthwhile to be open to the fact that wisdom can come from anywhere. People who are perceived to be less educated, lower class, younger, less experienced, or from the "wrong" political party can all provide wisdom.
Even four-year-olds can be wise. And if you're foolish enough to ignore them, you end up angry at a cheese stick.